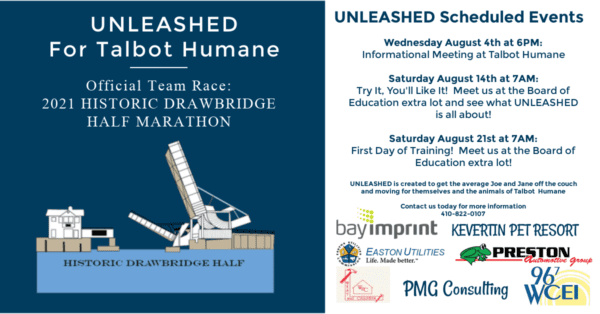 Easton, MD: Talbot Humane's Unleashed Charity Running Program is thrilled to be running the streets of Easton again for the animals! We are seeking animal lovers of any fitness level to train with us for the Historic Drawbridge Half Marathon from Tilghman to St. Michaels this fall. We are holding an information meeting on August 4, 6 p.m., at the shelter (7894 Ocean Gtwy, Easton). Training begins Saturday, August 21, 7 a.m., 12 Magnolia St. in Easton (parking area next to ball fields).
The training method is run/walk/run, which is designed to build to the race distance quickly, prevent injury, and fit into busy lives. "The best part of this program is that it's geared to get you off the couch and across the finish line of a 13.1-mile race in about 12 weeks," says Head Coach, Amy Eutsey. "The program is so doable that many participants continue running as a regular form of fitness, challenging themselves to run more races or longer distances."
**** If you would like to be kept in the loop of pre-conditioning training aids, information about the program, to have someone avaialble to answer your questions or concerns, please submit your email here, someone will be in touch soon! ****
SPONSORSHIP OPPORTUNITIES
Friends of UNLEASHED, Corporate sponsor and pace group opportunities to suppor the animals and the humans of the midshore!
For more information on the UNLEASHED program contact coach Amy Eutsey, (410)822-0107 or volunteer@talbothumane.org.
To discuss sponsorship opportunities contact Patty Quimby at patty@talbothumane.org or 410-822-0107