We are thrilled to be able to provide this service to loving pet owners in our community.  We know there are many reasons why someone may need to rehome a pet. Who better to determine the right home for an animal than the person who has lived with them and knows them best?
THESE PETS HAVE NOT BEEN ASSESSED BY TALBOT HUMANE STAFF, NOR DO WE TAKE ANY RESPONSIBILITY FOR PLACEMENT OF THESE PETS WHILE IN THE CARE OF THE OWNERS. THIS IS SIMPLY A PAGE TO ASSIST OWNERS WITH REHOMING OF THEIR PETS.
If you are interested in Talbot Humane sharing your pet for adoption on our website there are a few important points to know:
Talbot Humane only shares information about your pet and your contact information. We do not:
Assess the adoptability of the animal
Assess the potential adopter
If you would like to utilize this opportunity to find your pet a new home please download and complete the Pets for Adoption by Owner Information Form and submit to our office at adoptions@talbothumane.org.  At least one photo of your pet is required in order to post your request and must be transmitted via email.

For some tips on home visits, photographing your pet and information which will help potential adopters please click here: Responsible Rehoming Tips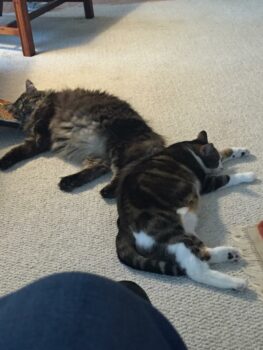 Oscar and Celeste *Bonded Pair*
Oscar and Celeste are a bonded feline pair. Their owner has been placed in hospice care and they are losing their home. With no family to reach out to, their caregiver is helping find a furever home for these sweet cats. Oscar is a 3 year old Maine Coon. He is FIV positive. FIV is […]

Have You Lost Your Pet?
Please check this link and contact our office to report a missing pet.
Begin Your Search