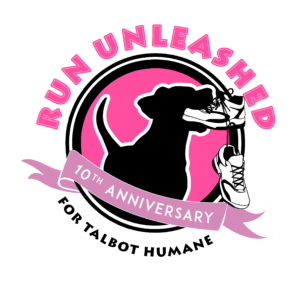 We are so excited to share our Charity Running Program- UNLEASHED for Talbot Humane is returning- and it is the program's 10th anniversary!  This program has taken hundreds of local friends across finish lines over the past 10 years, and raised close to $400,000 for the animals.
This wholly supportive, non-competitive program seriously takes everyone- from couch potato to weekend warrior and teaches & trains you through the Galloway run:walk program. You are put in a pace group with others of the same fitness level. You encourage each other and WILL cross that finish line together each week of training, and at the final day- race day!
In exchange for training, runners agree to raise funds for Talbot Humane. "It is truly a win: win situation," says veteran UNLEASHER Sara Rhoades. "I never would have thought I could finish a half marathon 10 years ago- and here I am still running and racing today at age 71 with UNLEASHED! If you are looking to change your life- this is the group for you." Changing your life and the lives of animals- what could be better?
This year we are training for the Richmond Half Marathon. It a race we have trained members for in the past, so we know all the ins and outs of race day!
If you are interested in being added to our informational email list add your information here- (please note we never sell or share your information!) https://hipaa.jotform.com/pattycquimby/unleashed-email-opt-in-form
Dates to Remember: 
Wednesday August 3rd at 6PM: Informational Meeting at Talbot Humane. Come hear from our coaches all about the program, how raising funds is the easy part and meet some of our amazing friends who have had their lives changed thanks to UNLEASHED.
Saturday August 6th at 7AM: Try it You'll Like It – we meet at the Rails to Trails parking lot off of Springdale St. next to the Talbot County Board of Education. Come see what a day of UNLEASHED is like. We will have coaches and alumni runners there to answer questions and take you on a short jaunt on the trail!
Saturday August 13th at 7AM: First day of Training!
Wednesday September 14th: Last day to register for this season of UNLEASHED
If you have any questions about the program we are here to answer!  Contact Head Coach Amy at talbothumanevolunteer@gmail.com or call 410-822-0107.
Thank you to our corporate sponsors!