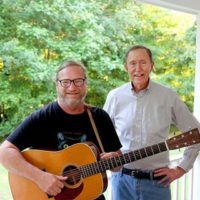 John Rimel and Tom Proutt
Saturday, March 10, 2018
Doors: 7:30 p.m.; Show: 8 p.m.
Stoltz Listening Room $25
Purchase tickets: https://tickets.avalontheatre.com/eventperformances.asp?evt=933
Attend a performance of John Rimel and Tom Proutt and it will be the songs that you carry away as the most memorable part of the experience. And best of all, you help the animals in need! John and Tom are donating a portion of their earnings and 1/2 the sale of their CD's to Talbot Humane! A great evening out for you and support Talbot Humane too!
Each of their works reflects a lifelong devotion to and expertise in the art and craft of songwriting. Thought-provoking lyrics take the listener on an exhilarating roller coaster ride of wide-ranging emotions. Their eclectic musical style spans the spectrum, encompassing folk, rock, country, bluegrass, Americana, blues, Cajun, and gospel.
John and Tom's songs feature a winning mix of stellar lyrics and exciting diverse music. The paired-down presentation of piano and guitar afford the listener an intimate direct experience and, best of all, a chance to hear the songs as they were written.