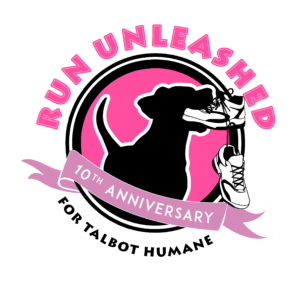 We are so excited to share our Charity Running Program- UNLEASHED for Talbot Humane is returning- and it is the program's 10th anniversary!  This program has taken hundreds of local friends across finish lines over the past 10 years, and raised close to $400,000 for the animals.
This wholly supportive, non-competitive program seriously takes everyone- from couch potato to weekend warrior and teaches & trains you through the Galloway run:walk program. You are put in a pace group with others of the same fitness level. You encourage each other and WILL cross that finish line together each week of training, and at the final day- race day!
This year we are training for the Richmond Half Marathon. It a race we have trained members for in the past, so we know all the ins and outs of race day!
If you are interested in being added to our informational email list add your information here- (please note we never sell or share your information!) https://hipaa.jotform.com/pattycquimby/unleashed-email-opt-in-form
Meeting is at 6PM at Talbot Humane. You will be able to ask questions, talk to alumni runners and coaches. No commitment needed at this time.