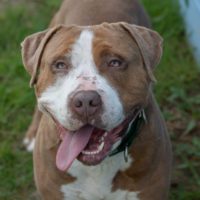 Imagine your dog is a Houdini and slips under your fence. You search high and low with no sign- for days, weeks, months. You all but give up. You assume the worst has occurred that your beloved pet has been stolen, or even worse, injured or died. What happened is shortly after your dog escaped a good Samaritan saw your dog, picked him up, and assuming he wasn't wanted or was mistreated just kept him. They chose not to report him or surrender him to the local shelter.  
Unfortunately, this scenario is not uncommon.  
Professional Animal Workers of Maryland (PAWS), the state association of shelters and animal control authorities wants communities across Maryland to know it is imperative, and in most jurisdictions required, for citizens to report a found animal to the local animal control authority. "We are seeing an increase in these cases across the state," shares PAWS president and director of Talbot Humane Patty Crankshaw-Quimby "cases where animals are missing for months and only by chance are they reunited with the owner when the animal gets loose again and ends up at a shelter or happens to be scanned at a veterinary hospital or clinic."   
The intent is usually for good. But the fact is, in Maryland and many other states animals are considered property. To harbor an animal found on the streets and not report to animal control or the local shelter could constitute theft, not to mention cause unintended heartache for the families missing these pets. "Often it is assumed the animal is neglected or abused" says Robin Catlett, PAWS secretary and Administrator at Anne Arundel County Animal Care & Control. "When in fact the animal may have a medical problem, been lost for a significant period, or any other reason that may leave an animal appearing uncared-for."  
Conversely, citizens should report lost pets at once. Animals often never have to enter the shelter system because they can be reunited in the field by neighbors or animal control officers. As shelters across the state often struggle with space, the community reporting lost and found pets at once helps these reunions happen outside of our walls. 
As county regulations vary across the state, PAWS is considering introducing legislation in 2023 to make it a state law that any stray found in Maryland must be reported to the shelter/animal control authority in that area within 24 hours or face penalties. "Our goal is to keep pets and families together. The heartbreak of losing a pet is something all animal lovers should understand. Shelters are here to support pet owners and protect animals. We need the community's help in doing so, "shares Quimby.