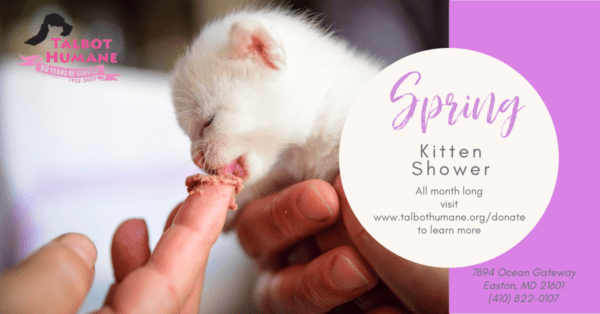 Join us for a "virtual" shower to help us prepare for kitten season 2022! Every year Talbot Humane receives hundreds of kittens from just born to weeks old. These sweet babies require specialized care and need a lot of supplies! If you can make a donation we would so appreciate your support!
If you are interested in becoming a foster parent complete our form now!  We will be having a Foster Parent Training including care of bottle babies on Saturday March 26th at the shelter.
WISH LIST:
Kitten bottles
Regular kitten nipples
Miracle Nipples (all sizes)
Soft Tissue/Baby wipes
KMR Formula- powder
Baby blankets
Heating pads and heating disks (snugglesafe)
Johnsons Baby Shampoo
Karo syrup
Shallow bowls
Kitten canned food- poultry
Kitten chow
Baby food- poultry
Small plates
Incubator*
Gift cards
Digital food scale
Registered at:
PetSmart
Donations may be dropped off or delivered to Talbot Humane!
7894 Ocean Gateway
PO BOX 1143
Easton, MD 21601